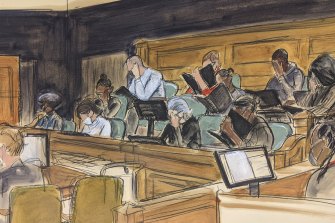 "If the jurors initially believed that they had a truth-teller in front of them when [an accuser] was testifying, it takes a lot on cross-examination to make a jury say, 'Oh, I've been hoodwinked'," former federal prosecutor Mitchell Epner offered by way of explaining the difficulty of Pagliuca's job.
Loading
Jurors heard earlier in the week from a psychology expert witness who testified that victims of sexual abuse or rape often change their stories as they process trauma.
The case is one of the first high-profile trials to be heard in New York in the wake of the #MeToo movement which brought down Epstein's friend, film producer Harvey Weinstein. On Maxwell's federal trial jury, women also outnumber men 8-4, which could well work against her.
That is not to say the government's case is without its weaknesses. The prosecution rested a week early on Friday after a number of witnesses were dropped from its line-up. In curtailing their case, prosecutors left the jury with lingering questions.
One particularly large elephant in the room was Virginia Roberts Giuffre, one of the financier's most prominent accusers.
Not only has she made some of the gravest allegations against Epstein, Maxwell and their associate, Prince Andrew, but she introduced her high school friend Carolyn to Epstein. There are photographs of Giuffre with the Prince and pictures at Epstein's various homes.
Her absence in the room was striking. Giuffre's name has been brought up at least once a day since the trial started two weeks ago, yet she is not expected to be called by either side to give evidence.
Loading
It is not clear what is behind the government's decision, but some have speculated she would be subject to greater scrutiny and a number of inconsistencies that have featured in the telling, and retelling, of her story over the past decade – in the media and as part of various civil suits she has filed.
But not everyone is so au fait with the cast of characters in this saga, and the jury can only judge on what they have in front of them.
Have they heard enough to convict? We'll have to wait and see what the defence has in store.
The Telegraph, London