Cricket Australia chief Nick Hockley has not ruled out the possibility of Justin Langer's role being split, or for players to have input over his future, as the governing body holds firm on its coaching timeline despite the recent success of the national men's team.
Langer's position should hardly be stronger, but he is being made to wait until the end of the home season before learning if his contract will be extended.
It is a curious position for the head coach to be in after Australia's maiden men's T20 world title and with victory imminent in this season's one-sided Ashes series, and reflects what has been an uneasy relationship between Langer and his charges – as revealed by this masthead in January.
The concept of appointing a coach for particular formats is not new but, though Langer and his predecessor Darren Lehmann have had deputies step in for some white-ball tours, CA has not deviated from the traditional structure for the role.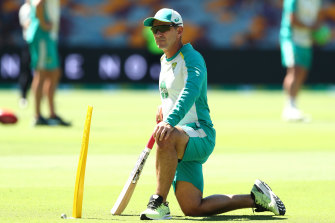 There have been calls to split the job for red and white-ball formats, including from former captain Steve Waugh. Such a move would ease the burden on the head coach, a point former coach Lehmann alluded to in 2017 when he spoke of the difficulty in going on every tour due to the demands of the heavy international schedule, and in October.
There is speculation in Australian cricket circles assistant coaches Michael Di Venuto and Andrew McDonald were hired to take more white-ball tours, but Langer was adamant last week he wanted to remain as head coach in all three forms of the game.
Asked on Sunday if the role would be split, Hockley said: "That's something we'll look at towards the end of the season."
But Hockley said Langer would remain until the end of his four-year contract, which expires in June, and take in the mooted Test tour of Pakistan.