Residents in Sydney's north-west are still counting the cost of last year's horrific floods that engulfed the Hawkesbury region. That makes the prospect of major flooding returning 12 months later even less palatable.
One Windsor resident, who asked to remain anonymous because the media coverage last year was overwhelming, said she feels anxious thinking about rising river levels.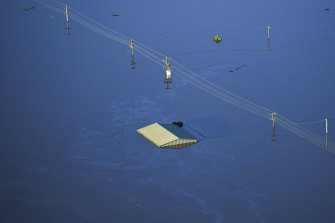 "Sitting here right now we are a bit edgy," she said, although she said her "gut feeling" was this flood wouldn't exceed 2021 levels.
"It really depends on where that low comes through and where it dumps."
One thing that hasn't been possible since last year is moving house. Flood insurance – at $30,000 a year – is unaffordable, so residents have to take their chances.
Loading
"Financially we're pretty screwed after last year," she said.
She said residents are frustrated with Water NSW for not discharging water from Warragamba Dam before the extreme weather.
"To them, it's a water storage dam, not a flood mitigation dam. There's no pressure from anyone for them to release any water prior to these events happening. I don't know why they can't release more know there's rain coming."