Lightweight jockey Regan Bayliss is quickly building a reputation as a Randwick mile specialist after adding the Villiers Stakes on Brutality yesterday to his spring group 1s with Private Eye and Never Been Kissed.
Bayliss had his biggest day in the saddle in October when he won the Epsom and Flight Stakes at Randwick over 1600m on the same afternoon and once again was at his best as he sat three deep with cover from a wide gate before charging over the top of Ellsberg late in the big summer mile.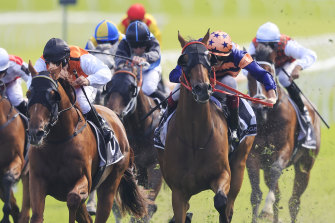 "I'm just getting on the right horses at the right time," Bayliss said. "You need the right horses to get these sort of results.
"I've been very lucky. Obviously, coming to Sydney and winning the Flight Stakes and an Epsom, now a Villiers, it's very special and long may it continue."
With his ability to ride light, Bayliss could follow in the footsteps of the recently retired Glen Boss, who was the master of the Randwick mile. He rode Brutality at 53kg for trainer Joe Pride,who backed up Brutality for the third consecutive week, and he will continue to get opportunities that others cannot take.
"He was very explosive," Bayliss said of Brutality. "He's had the perfect preparation, he really enjoys the back-up, this horse, trained by the master Joe Pride – he knows how to get them peaking on the big occasion."
"He was spot on today, he dropped 7½ kilos in the weights.
"I was a little bit worried when the track was drying out, but, if anything, he showed a better turn of foot on top of the ground.
"We had a beautiful run in transit, and he put them away accordingly."