"Wilfred Rhodes and Clarrie Grimmett knew the secret long before the Battle of Britain: take control of the air and you win the war."
When the late Ashley Mallett wrote this in 1994, he was talking about Shane Warne, Tim May and the need to "give a bit to get a bit" as a spin bowler, inviting drives and giving the ball the chance to loop, drop, turn and bounce.
Around the same time as Warne in particular was revolutionising spin, Wasim Akram and Waqar Younis were doing something similar for pace.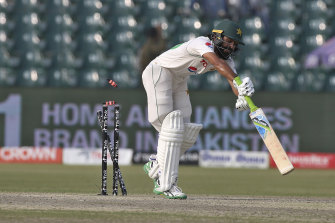 Reverse swing and attacking lengths were vital weapons in Pakistan on slow, low pitches, but with their help such methods were re-adopted around the world. As with spin, the approach required some risk, allowing for driven shots. The potential rewards, though, were handsome.
In lengthening shadows, an inspirational Pat Cummins and Mitchell Starc put together a shared spell to rival the best of Wasim and Waqar – exploiting the merest opening created by Nathan Lyon when he, somewhat belatedly, chose a more attacking line.
For a long time in this series, whether with pace or spin, Australia have been straining to win this "air war" given the lack of help on offer once the ball pitches on concretesque surfaces. With the exception of one fevered afternoon in Karachi, they have struggled to do so.
Loading
Day three of the final Test in Lahore seemed, for much of its length, to be another one of hard and fruitless toil. The ball turned for Mitchell Swepson, but Steve Smith missed another fiendish chance at slip, and at the other end Lyon's parsimony also presented essentially risk-free opportunities for Azhar Ali and Abdullah Shafique to defend him on the front foot.
Either side of lunch, correspondents were in fact reaching for records pertaining to worst bowling averages by Australian teams in a series. Shortly beforehand, Lyon had been seen in animated discussion with David Warner. Whatever the topic, Lyon's line moved wide of the off stump, teasing the outside edge, and soon he had a zephyr of a nick from Shafique.