First published in The Sydney Morning Herald on April 27, 1942 & September 15, 1945

DETAILS AWAITED OF PERTH SURVIVORS
April 27, 1942
No news has yet been received by the Prime Minister, Mr Curtin, to confirm the report of the Official Domei News Agency (Japan) that 250 of the crew of H.M.A.S Perth swam ashore after the vessel was sunk, but that the Commander, Captain H. M.L. Waller, went down with his ship.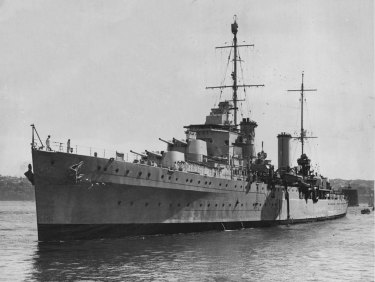 Mr. Curtin referred to his statement on Friday, in which he said that Japan had shown little inclination, as yet, to give news of prisoners, but that everything possible was being done by the Commonwealth to obtain news [The Perth, a cruiser, disappeared as she was making for Australia after the Battle of Java. Her loss was announced on March 13 ].
CATALINAS REACH DARWIN
Arrival Of POW's
September 15, 1945
DARWIN, Friday.—At noon to day the first eight Catalina flying-boats carrying 135 Australian prisoners of war from the Java-Malaya area landed at Darwin.
The prisoners were: 131 members of the A.I.F., two survivors from H.M.A.S. Perth, and two R.A.A.F. men. The Army personnel included 50 from Victoria, 33 from N.S.W., 31 from South Australia, 11 from Tasmania, three from Western Australia, and one from Queensland—all of the Eighth Division.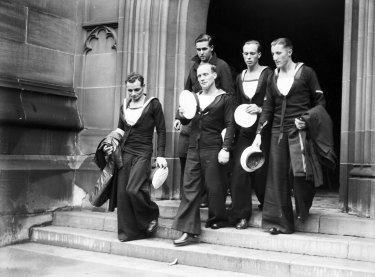 All the men looked remarkably fit, and were dressed in British Army jungle uniforms, black boots, gaiters, and berets.
The two survivors of H.M.A.S. Perth were B2936, A.B. A. Elliot, of Fairfield, Brisbane, and 23174, Telegraphist W. B. Price, of St. Kilda, Melbourne. They both told graphic stories of the sinking of the Perth and the U.S. cruiser Houston, and of their experiences in prison camps in Java, Malaya, Burma, and Thailand.