"It's very clear there's going to be increased transmission of COVID-19 and probably Omicron," he said. "We have to be on alert."
Dr McRae said he was pleased hospitalisation rates had not increased exponentially in Victoria.
"[Shopping centres are] an ideal transmission zone for COVID, in particular Omicron," he said. "It's important that everybody should happily wear a mask. Minimise the physical contact and maximise social distancing."
While most Victorians spent the day with their friends and family, thousands waited in COVID-19 testing queues, forced into isolation as a close contact, or recovering after contracting the virus.
By Saturday morning, about 30,000 people were isolating – about half were confirmed cases and the other half close contacts.
Lines at the Melbourne Town Hall for coronavirus testing snaked up Collins Street for 250 metres at midday, and there were similarly long queues of about 300 metres at The Alfred.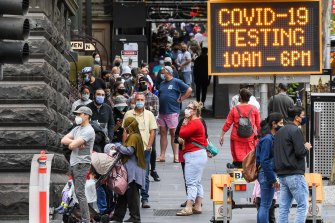 The Victorian government's website listed about 90 testing sites across the state as operating on Christmas Day, some with reduced hours, compared with more than 260 during the working week.
About 30 minutes after it opened at 7am, operators were forced to close Deakin University's Burwood testing hub after it hit capacity.
Wait times blew out to 150 minutes at the Cranbourne testing hub about 7.30am on Saturday, while the wait was 90 minutes at Melton Football Netball Club, and 60 minutes at Melbourne Showgrounds and the Coolaroo testing hub.
By about 8.20am, Monash University's Clayton site was also closed after it reached capacity, as was Frankston Hospital's drive- and walk-through sites, the Alfred Hospital's walk-through site, and Victoria University's Werribee East testing site.
The wait time at Melbourne Showgrounds was listed as 180 minutes on the Victorian government's website about 8.30am Saturday.
3AW radio caller Steve said he arrived at Melbourne Showgrounds to get tested about 6.10am on Christmas Day, a few hours after the Department of Health notified him he may have been exposed to the virus.
"The thing is, it was last Sunday that we attended this [exposure] location," he said. "[It's] not a great way to spend Christmas morning.
University of New South Wales epidemiologist Mary-Louise McLaws said there was still no sense of when the current wave of infections may peak.
Loading
"This will be the highest peak that we've seen in Australia," she said, adding NSW's case numbers were going "straight up into the stratosphere".
She urged shoppers and cricket fans at the Test match to wear their masks properly and not let them slip under their noses.
"If they accomplish that, the risk of spread will be low."
Despite the AMA's warnings large Christmas gatherings followed by Boxing Day retail sales could spark super-spreading events, the Australian Retailers Association said it expected a record $21.1 billion to be spent between December 26 and January 15 – up 2.1 per cent on the previous year.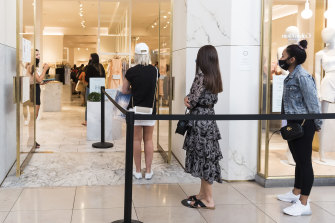 The association's chief executive Paul Zahra said Victoria and Tasmania would drive that sales growth, with Victorians expected to spend $5.6 billion over the next three weeks.
"Sales are set to remain strong despite the ongoing threat of Omicron, with retailers remaining alert but not alarmed," Mr Zahra said.
"Safety and hygiene remain important protocols for businesses allowing consumers to shop with confidence. It's important that shoppers follow the health advice and wear a mask."