Two women have died in flash flooding over the past two days, as parts of south-east Queensland brace for more storms.
Over 350,000 lightning strikes were recorded overnight, during a severe storm that hit Brisbane and surrounding regions.
The nearby town of Samford received 61mm in just one hour.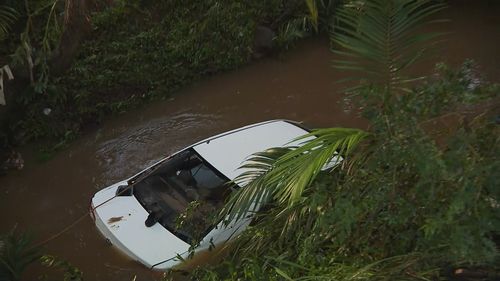 The Bureau of Meteorology has warned another round of storms are headed for south-east Queensland, including Brisbane, the Sunshine Coast and Moreton Bay region.
The thunderstorm over the Moreton Bay area has been deemed "very dangerous", with gusts of 125km/ hour winds and large chunks of hail falling on surrounding towns.
Emergency personnel are warning residents to be vigilant about flood risks, as flood warnings remain along the coast, from Mackay in central Queensland to the south.
Last night, a woman was found dead in her submerged car, after it was swept into a nearby creek.
Emergency services attended reports of the vehicle submerged in floods, later finding the 44-year old Geebung woman inside.
The woman and her partner, a 52-year-old man, had been visiting a Hungry Jacks drive-through in Aspley before witnessing a four-wheel drive crossing floodwaters.
The pair had decided to do the same, before being swept approximately 200 metres in the flood waters, into a nearby creek.
The 52-year-old man managed to escape the vehicle, swimming to the embankment, and was found by police around 8pm.
He was assessed by paramedics and taken to Brisbane's Prince Charles Hospital in a stable condition, and is currently assisting with the ongoing investigation.
Police and emergency services, including SES and police divers, found the car and the woman submerged inside it in Little Cabbage Patch Tree Creek approximately four hours later, following extensive searches around 11.15 pm.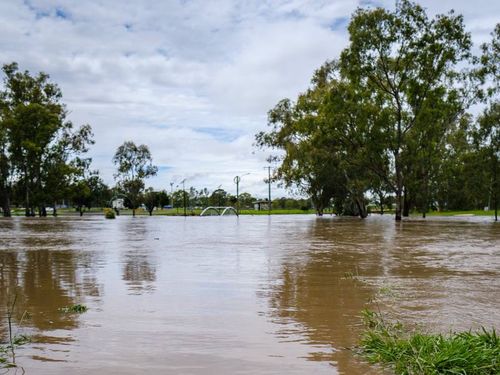 Police officer Mark Jones said the deaths were a timely reminder of how dangerous floods can be.
"This is the second tragic loss of life in a number of days due to cars driving through floodwater," Mr Jones said.
"There was a significant amount of water in the exit of the drive through back onto Gympie road.
"If it's flooded forget it, do not drive through floodwaters whatsoever."
Resident Connor Scurr, who lives on the banks of the creek, was one of the first to spot the car.
"It's more of a shock thing, you don't really expect to wake up and see someone pulled from a car from a flood, it's devastating," he said.
Jim Williams, who also lives nearby, said the surrounds of the Hungry Jacks drive through were extremely wet, with water levels rising quickly.
"The Hungry Jacks carpark was going under water, I walked all along here and the path was starting to go under water," he said.
He said he witnessed searches take place from dozens of police and emergency services, warned to stay away as water gushed over the creeks banks.
"He said we don't want to pull another person out of the creek so we gathered someone had had some kind of an accident and gone in.
"It was flowing at a phenomenal rate. It was probably the quickest I've seen it come up in quite a while."
About 15 minutes before the woman's body was found, emergency crews were called to what could have been a similar situation north of Brisbane.
A police spokeswoman said as many as three cars were trapped in floodwaters near Old Gympie and Callaghan roads at Narangba.
She said police, firefighters and paramedics attended the scene but only police remained directing traffic early Friday morning.
Ben Domensino from WeatherZone said there were 352,311 lightning strikes detected within a 300km radius of Brisbane last night and that more than 200,000 of these occurred between 4pm and 10pm.
"In yesterday's case, this rising air at the sea breeze front caused acted to supercharge the existing thunderstorms, resulting in heavy rain and a lot of lightning," he said.
"The heaviest rain from last night's storms fell to the north of Brisbane, where Deception Bay collected 114 mm during the 24 hours to 9am on Friday, with 112 of this falling during the six hours ending at midnight."
Albany Creek also picked up 101 mm and Dayboro had 111 mm during the 24 hours to 9am Friday.
QFES and Transport and Main Roads continue to issue warnings, urging residents never to enter flood waters, in their cars or on foot, and never to let children play in dangerous floods.
"There might be debris, sharp objects, poison sewerage or maybe the odd crocodile," a Transport and Main Roads spokesperson said.
"More than half of our flood related deaths are the result of Queenslanders driving through floodwater."