At present, government-subsidised Medicaid health insurance plans cover medically necessary abortions in only 16 states, but do not reimburse patients who leave their state to seek a procedure.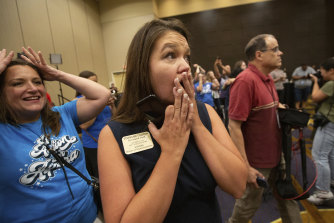 The executive order aims to mitigate some of the consequences of the Supreme Court's ruling, which has led to countless women being forced to travel interstate to terminate a pregnancy because their own state either has severely restricted or banned women doing so.
In states such as Mississippi, Oklahoma, Texas, and Arkansas, for instance, women now have to travel thousands of kilometres to access abortion services, and many simply do not have the finances or support to do so.
The latest action is the second time in less than a month that Biden has used his presidential powers to try to safeguard abortion in the wake of the court's decision.
Last month he also issued an executive order instructing the Department of Justice and Department of Health and Human Services to ensure women's access to care where possible, including expanding availability of abortion pills, contraception and family planning services.
Loading
Today's action also directs the department to ensure health-care providers comply with federal non-discrimination laws when offering abortion services, and to collect data to measure the impact of the court's ruling ruling on maternal health.
Biden, who still has COVID, signed the order via video link at the first meeting of the Interagency Task Force on Reproductive Healthcare Access, which was formed in July.
But he acknowledged that his powers were limited, and therefore the best way to reinstate abortion rights federally was for Congress to act.
"We're doing everything in our power to safeguard access to health care, including the right to choose… which was ripped away by this extreme court," he said.
"But ultimately Congress must codify Roe. If Congress fails, people in this country need to elect Senators and Representatives who will restore a row and will protect the right to privacy freedom and equality."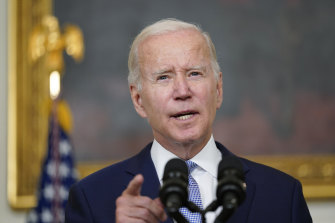 The decision in Kansas on Tuesday was the first political test of the Supreme Court's decision to wind back Roe v Wade – the 1973 ruling that gave women a constitutional right to abortion in America.
The result was a major victory for the pro-choice movement, particularly in a state that swung to Donald Trump in 2015 and has not elected a Democratic president since Lyndon B Johnson was on the ballot in 1964.
Democrats – which have faced poor polling for months – are also hoping it is a sign that the landscape could shift ahead of the midterms, and set the scene for similar results in abortion ballots in California, Michigan, Nevada and Vermont later this year.
Get a note directly from our foreign correspondents on what's making headlines around the world. Sign up for the weekly What in the World newsletter here.