This could mean that angling for eye contact with a waiter or elbowing your way to the front of a crowded bar could be hindrances of the past, though Ms Teo said the company had no interest in automating the entire experience, with wait staff still delivering the food.
In fact, the business believes some venues that use the service may end up hiring more staff than they would have otherwise, due to the platform facilitating a higher number of orders per hour.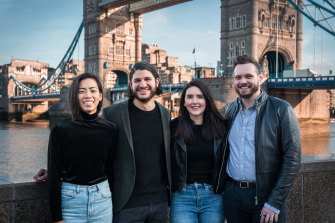 Mr Yum's massive round has been led by US investment firm Tiger Global and included follow-on investments from AirTree Capital and Steve Baxter's TEN13 fund. Tennis Australia also participated in the round.
The raising is Australia's third-largest Series A and the largest for a female-led company. The success of the raising reflects how much Australian companies are now respected on international stages, Ms Teo said, with many US investors actively seeking out local startups to add to their portfolios.
"Investors are frothing on Australia at the moment," she said. "They're genuinely saying 'I haven't invested in something in Australia yet, I want to'. They want to know what's going on down here."
Loading
Major success stories such as Afterpay and Canva have made international investors sit up and take notice of the Australian scene, Ms Teo said, with many funds likely kicking themselves for passing on early investment opportunities.
AirTree partner James Cameron said the adoption of Mr Yum's technology happened "pretty much overnight", with the company having a lot of untapped growth potential in international markets.
"They're now helping hospitality venues all over the country bounce back from a very tough period through COVID, and with this new funding they are able to double down on their international markets, where they are already growing faster than they were in Australia," he said.
Currently, Ms Teo is in London spearheading the company's international expansion efforts, which are going well, however, she says there are some areas where UK and US customers are far behind their Australian counterparts.
"The UK is probably 12-18 months behind on cashless payments adoption, and the US would be even further behind than that. You walk into some restaurants in the US, and they're still signing the bill and writing tips on paper," she said.
"Australia is almost like this perfect little ecosystem where you can build something new pretty quickly because consumers just flock to it. So it actually makes for a really good breeding ground."
The Business Briefing newsletter delivers major stories, exclusive coverage and expert opinion. Sign up to get it every weekday morning.