Patel said he's in "very illustrious company" to be alongside Laker and Kumble in the history books.
"I guess the stars have aligned for me to have an occasion like that here in Mumbai, to be born here and then come back here and achieve something like that is pretty special," he said.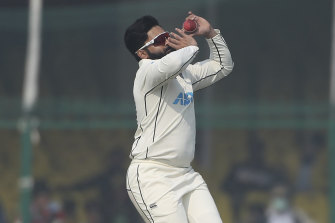 Patel got his ninth when Rachin Ravindra took a catch at long-off as Jayant Yadav holed out for 12.
His 10th followed just three balls later, when Mohammed Siraj gave Ravindra, now at mid-on, another, on four.
Patel's first four wickets came on day one, including that of Indian captain Virat Kohli, who was upset as he felt he'd got bat on the ball when he was given out LBW.
He reviewed the decision, but there was no conclusive evidence to support it being overturned.
Patel finished the first day with 4-73 from 29 overs and said his return to the city he left in 1996 – but has visited many times since – was "what dreams are made of".
He also said the job was "only half done," but no-one would have been expecting him to do the other half – and then some – by himself.
Two wickets came in his first over of the day as he secured his third five-wicket bag in Tests, but Axar Patel denied him the chance to become the third New Zealander to take a test hat-trick.
Wriddhiman Saha was out LBW for 27 to Patel's fourth ball of the day, while Ravichandran Ashwin followed for a golden duck off the next, clean bowled. For some reason, he thought he'd been caught behind or stumped and tried a review.
No more wickets fell before lunch as Indian opener Mayank Agarwal continued to bat on and on.
He was finally out in Patel's first over after the break, caught behind the ball after he reached 150, giving the spinner his seventh wicket.
Patel missed an early chance for his eighth when he failed to review an LBW shout against Jayant.
Loading
It was a successful review that got him there in the end, against left-hander Axar Patel, who was struck on the inside of his leg while trying to pad a ball away outside off stump and was sent on his way for 52.
At that point, he'd become the second New Zealander to take eight wickets, after Hadlee and he had the best figures by any spinner.
It wasn't long before he had the best figures of them all – 10-119 from a total of 47.5 overs – and a performance in his hometown he'll never forget.
Unfortunately, after Patel's heroics, New Zealand were all out for 62 in their first innings in reply to India's 325, and trailed by 263 runs, with India batting again.
India off-spinner Ashwin picked up 4-8 while Siraj chipped in with 3-19.
stuff.co.nz, agencies