Health officials are investigating whether two more students at a school in western Sydney have contracted the Omicron strain of COVID-19 after they presented with early indicators of the new variant.
NSW Health Minister Brad Hazzard said other students at Regents Park Christian School in western Sydney in the same cohorts were also undergoing testing, while further test results are expected late this afternoon.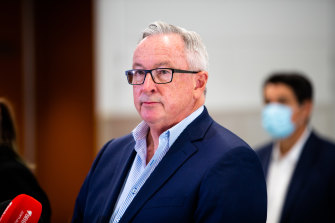 Mr Hazzard said the chain of transmission was yet to be determined, but urged the community to maintain "perspective".
"I think transmission is always a concern, but we also need to just keep it in perspective at the moment," he said. "Worldwide, there's not clarity around whether or not this particular variant is going to cause us anywhere near the problems that the earlier variants caused.
"We're not seeing people suddenly being rushed to hospital. What we're seeing is people who are either asymptomatic or have very mild symptoms, generally."
Loading
Mr Hazzard said another student at the school, who has already tested positive to the Omicron variant of the virus, was concerning because it was the first case in the state that did not have any travel history.
That student is the ninth confirmed case of the variant in NSW, and Mr Hazzard said "it would appear that the case could well be a [transmission] on NSW soil".
Premier Dominic Perrottet said NSW would continue to take a balanced approach to the pandemic, after the state recorded 337 new cases earlier this morning.
Mr Perrottet said he always expected case numbers to be higher once the state started opening up, but said the government remained committed to the plan to further ease restrictions under the road map on December 15.
"I think what is most important is that [we] focus more, as the Health Minister has said, on hospitalisations and ICU presentations. They are the numbers that matter. Case numbers in of themselves are only one measurement."