Washington: US federal authorities are under growing pressure from both sides of politics to explain why Donald Trump's property was raided, as allies of the former president urge him to seize the moment by announcing another run for the White House.
More than 24 hours after the FBI executed a search warrant on Trump's Mar-a-Lago estate in Florida, neither the bureau nor the Department of Justice had provided the public with any details about what they found, or what led to the unprecedented move.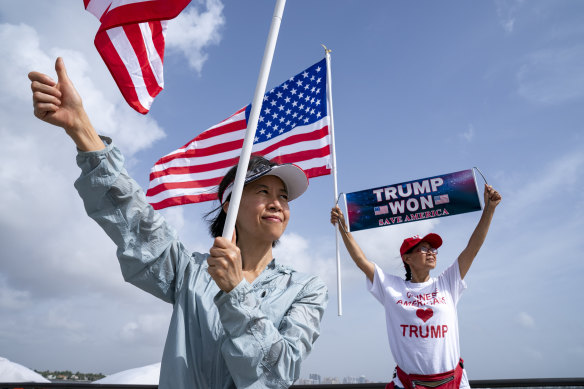 The White House also insisted that President Joe Biden had no prior knowledge that the search would take place, and called for calm amid reports that some of Trump's supporters were using social media to call for "civil war".
"Our message is that there is no place for political violence in this country," spokeswoman Karine Jean-Pierre said.
Loading
The raid on Trump's 17-acre Palm Beach property unleashed a political storm that has energised both traditional Republicans and the more far-right elements of the party. They are outraged by what they view as government overreach, lack of transparency and an attempt to stop Trump from running for re-election.
Some of Trump's allies on Capitol Hill have been privately advising the former president to use the momentum surrounding the event to announce another tilt for the Oval Office in 2024 – something that he was widely expected to do, but not until after the midterm elections in November.
South Carolina senator Lindsey Graham said he had personally spoken to Trump, telling reporters that "the FBI has lost its way" and lamenting "this unending desire to destroy Trump and his family".
Read more here.