Prime Minister
Scott Morrison
has sought to make clear feedback he made throughout final night time's first chief's debate, which have angered incapacity advocates, saying he made them "in good faith".
During
the talk
, Mr Morrison mentioned he was "blessed" to not have youngsters with a incapacity.
Mr Morrison was being questioned in regards to the Coalition's plans for the National Disability Insurance Scheme (NDIS) by the mom of a kid with autism.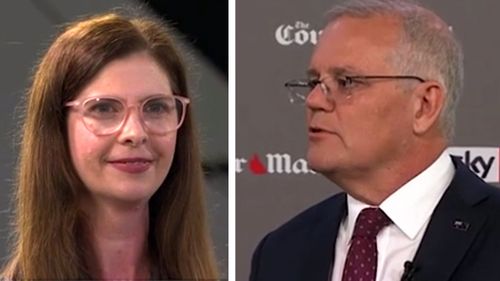 The mom, Catherine, mentioned she was grateful to obtain help for her four-year-old son by way of the NDIS however, like many others, he lately had his funding minimize.
"I've been told, to give my son the best future, I need to vote Labor," Catherine mentioned to the prime minister.
"Can you please tell me what the future of the NDIS looks like under your government?"
After asking Catherine what her son's identify was, Mr Morrison gave his response.
"Jenny and I have been blessed, we've got two children that don't — that haven't had to go through that," he mentioned.
"And, so, for parents with children who are disabled, I can only try and understand your aspirations for those children.
"And then I believe that's the fantastic thing about the National Disability Insurance Scheme."
After being roundly criticised for his choice of words on social media by Labor, disabled people and the parents of children with a disability, Mr Morrison sought to explain his reasoning for the remark.
"What I used to be saying in good religion … I used to be simply merely saying that it is powerful and I'm grateful that there are these hardships that I and Jenny have not needed to cope with, there are different issues nevertheless it's powerful and it is arduous," he told 2GB's Ray Hadley.
"There isn't any better love than a father or mother has for a kid and notably a toddler that has particular wants and it's a blessing however I used to be merely attempting to say in good religion that I have not walked in your footwear Catherine I'm not going to fake to say that I perceive it in addition to you do."
Australian of the Year and disability advocate Dylan Alcott weighed in this morning, saying he was "very blessed to be disabled".
Mr Morrison this afternoon said he had spoken to both Alcott and to Catherine, the mother who posed the question.
He said he was "deeply sorry" for the remark.
"I meant no offence by what I mentioned final night time however I settle for that it has triggered offence to folks … and I've been involved immediately and I apologised on to Dylan about that," he said.
"I believe folks would additionally recognize that I might have had no such intention of suggesting that something apart from each little one is a blessing is true.
"Every child is precious and a blessing to every parent.
"I do not suppose that is in dispute and I do not suppose anybody would significantly suppose that I had the intent of something totally different to that."
Labor senator Katy Gallagher, who has a daughter with autism, was one of many parents who took to Twitter to express outrage at Mr Morrison's choice of words.
"I'm 'blessed' to have a toddler with autism. She teaches me issues every single day. Our lives are enriched by her," Ms Gallagher wrote in a tweet last night.
Labor's shadow NDIS minister Bill Shorten was also quick to jump in.
"ScoMo says he's 'blessed' to have two non-disabled youngsters. Every little one is a blessing," Mr Shorten tweeted.
"The NDIS is there to assist folks with incapacity reside their lives to the fullest.
"My suggestion to Scott Morrison is he apologises to people with disability and their families for his remarks tonight which were insensitive."
Disability advocate Carly Findlay additionally expressed her rage on the remark.
"I am blessed to be disabled – to be a part of a strong, supportive disability community (and to among many allies), to have a strong sense of disability pride, and to learn from many other disabled people," she tweeted. 
"I am not blessed to have an ableist Prime Minister."
Former Australian of the Year Grace Tame, who has autism, joined within the criticism.
Finance Minister Simon Birmingham instructed the ABC this morning Mr Morrison's remark had been taken within the mistaken means.
"The PM, actually in that context, was talking about not having to deal with the many challenges of systems that you have to work through to get support," he mentioned.
"It is simply the case that, as a country, all Australians, I think, understand the need for us to provide additional support and we can understand as well the circumstances for family members and for others helping people living with disabilities are not always easy circumstances.
"And that, for many people, we're lucky to not cope with a number of the challenges confronted in these instances."