The judge presiding over Djokovic's case, Anthony Kelly, questioned what more the tennis player could have done to ensure his entry to Australia.
The court heard before and after arriving at Tullamarine airport in Melbourne, Mr Djokovic had a medical exemption from a professor and an "eminently qualified physician" to support his claim he had a medical contraindication to a COVID-19 vaccination.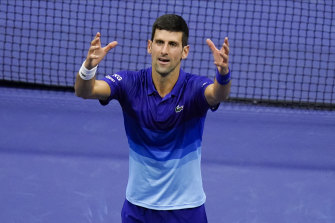 He was also separately given an exemption by an independent expert panel established by the Victorian government, Judge Kelly said.
"The point I'm somewhat agitated about is what more could this man have done?" the judge said.
Mr Djokovic's lawyer Nicholas Wood, SC, said what "emerges with utmost clarity" from the transcripts and recordings of his client's interaction with border officials is "he had done absolutely everything that he understood was required in order for him to enter Australia".
Mr Wood said Mr Djokovic provided the evidence required to support his declaration when he applied for the exemption.
Mr Wood said the federal government "thought he was ok to come" by granting him a visa initially.
When he encountered issues in Melbourne, the court heard Mr Djokovic was mystified, saying words to the effect of,"If there has been an error, I don't understand what it is" and he indicated he wanted to speak to a lawyer.
Judge Kelly said in effect, Mr Djokovic told officials he would never have come to Australia if he did not think he could not have gained entry.