I've just spoken to an Israeli official who says that Prime Minister Naftali Bennett spoke to Russia's Vladimir Putin around two hours ago.
This comes amid speculation that Israel, which has good relations with Russia and Ukraine, could play negotiator in any peace talks.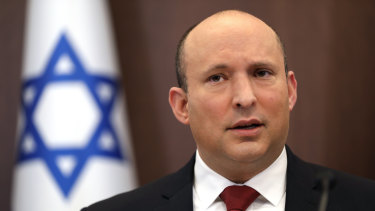 "The Prime Minister expressed his concern about the situation in Ukraine and the possibility that the fighting would intensify and lead to greater humanitarian damage," the Israeli source said.
"President Putin noted that he is ready for negotiations. Prime Minister Bennett said that Israel is ready to assist as much as required and at any time in order to help resolve the crisis and bringing the parties closer.
"This is due to Israel's special status and good relations with all parties. The two leaders agreed to maintain continuous contact between Russia and Israel."
A couple of things worth noting here: Israel's critique of Putin's actions has been far more muted than its Western allies. This is because Israel depends on Russia to help it control events in Syria and prevent Iran's influence in the region from reaching Israel through its eastern border.
However, Ukraine's President Volodymyr Zelensky is one of just a few Jewish world leaders and his family, on his grandfather's side, were murdered in the Holocaust.
There have also been protests in Israel in support of Ukraine.